Module 1 – EASA Private Pilot Licence (PPL)
The first step towards achieving your goal is to earn the Private Pilot Licence (PPL). This training consists of a theoretical part in the form of distance learning and minimum 45 hours of flight training. For most candidates it takes less than 2 months from the beginning to finish the course. At the end of the training a skill test is required. With this licence you can fly all around Europe in VFR and even take your friends and family for a ride!

---
Module 2 – EASA ATPL Theoretical Knowledge Course
After successful acquisition of PPL(A), trainees immediately start their Airline Transport Pilot Licence Theory training using our certified CATS distance learning system. 14 subjects and a total of 650 hours must be completed. Exam sittings can be carried out on site reducing travel expenses and the excitement factor thus contributing to the successful outcome.

---
Module 3 – Structured Hour Building
88 hours of time building is started as soon as candidates receive their PPL to consolidate and improve their flying skills and experience before starting advanced flight training modules. Hour building and ATPL Theory can be done at the same time. During Hour Building trainees will gain experience with international flights to controlled airports and in more demanding situations!

---
Module 4 – Night Rating
It is recommended to start NVFR training when candidates approach 100 hours of flight experience, or just before the Instrument Rating module. The training consists of a theory course which is concluded by an in-house exam after 5 hours of flying. It is generally completed in 2-3 nights.

---
Module 5 – SE IR Rating
50 hours of dual flight training to enable trainees to conduct IFR flights in Single Engine Piston aircrafts. Training can generally be completed in less than 2 months. A skill test is required at the end of this module.

---
Module 6 – MEP Class Rating
The Multi Engine Piston Class Rating is a 6-flight-hour course on our PA-34 Seneca aircraft. A skill test is required after the training however it can be conducted just after completion of CPL training which also includes 5 hours of Multi Engine time. MEP training can be completed in 2-3 days only.

---
Module 7 – Commercial Pilot Licence
The CPL course after completion of IR is only 15 flight hours. The training is conducted partially on Multi Engine Aircraft (5 hours) and SEP (10 hours). The course usually only takes a week and a skill test is required after completion (ATPL Theory exams must be finished by this time).

---
Module 8 – ME IR Rating
After getting MEP Class Rating and CPL the Multi Engine IR Conversion is a 6-hour course followed by a skill test. The training can usually be completed within 2-3 days.

---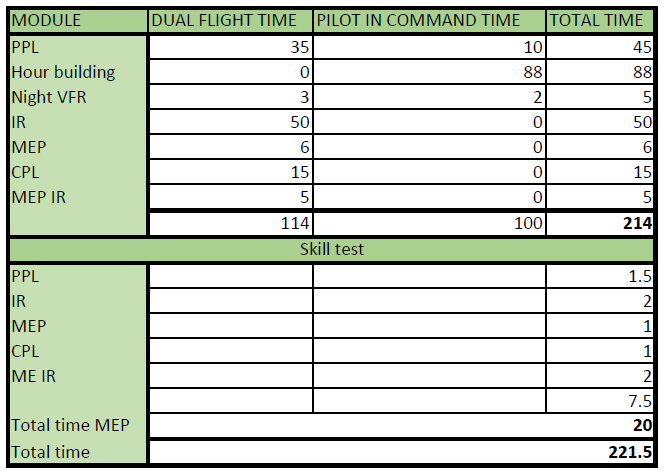 ---
FI/IRI Refresher Training
FI/IRI Refresher Training from June 2020
Place: 6722 Szeged, Londoni krt. 22.
Duration 2 days
Application and more information: info@agroaero.hu